Monday, July 15th, 2013
Say what? Another Eclipse DemoCamp at Tasktop? That's right, and it was something to brag about! Tasktop Technologies, the Eclipse Foundation, and Pivotal hosted Eclipse Kepler DemoCamp at Tasktop HQ in downtown Vancouver for Eclipse enthusiasts, faculty and students who work with the Eclipse IDE.
The evening began with networking and snacks. We opted for delectable aliments doigt, with fine cheeses, le sandwiches, stuffed mushrooms and seafood, instead of pizza and pop that has become the staple food of many a developer (not you, of course, we know you have a more sophisticated palate).
David Green and Andrew Eisenberg then kicked off the evening with event intros and warm welcomes…
…followed by an icebreaker game…
This year, we played Big Data, where each participant was asked to gather data about other attendees. We thoroughly enjoyed it, maybe because we're all geeks.
After the game, the data was collected and collated. It is now ready to be map-reduced by Hadoop. Here are the resulting statistics of the make-up of this year's DemoCamp participants:
| | | |
| --- | --- | --- |
| | Yes | No |
| | | |
| Attended EclipseCon? | 6 | 31 |
| Commiter? | 8 | 16 |
| Student? | 10 | 19 |
| Created plugin? | 21 | 9 |
| Raised a bug? | 8 | 7 |
| Contributed? | 10 | 13 |
| Program daily? | 40 | 5 |
| Java? | 21 | 8 |
| IntelliJ? | 0 | 29 |
| Netbeans? | 0.5 | 47 |
| CS degree? | 16 | 4 |
Note: these results reflect the skills of first time data-collectors (ie: numbers may not approximate reality).

…with all the attendees warmed up and well fed, the presentations followed…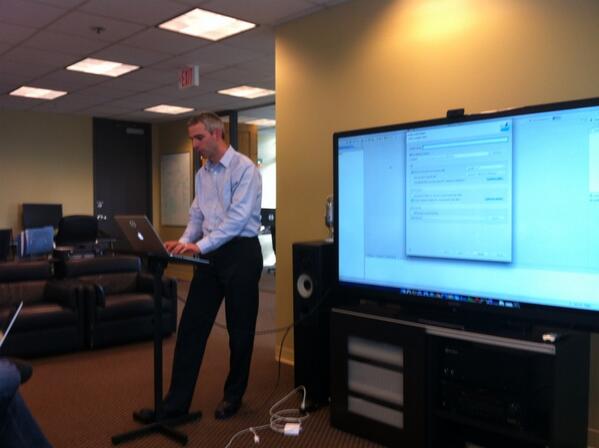 David Green (Tasktop) Showed off the new super-secret tooling in Eclipse for working with GitHub.
Nieraj Singh and Kris De Volder (Pivotal) showed some of the new features of Spring Tool Suite 3.3.0, including the new Quick search feature and getting started guides.
Rafael Chaves (Abstratt) presented Cloudifier, a platform for rapid application development/deployment built on Eclipse Orion.
Deepak Azad (UBC) demoed new features in Eclipse JDT for the Kepler release, mostly new quick fixes and null type inferencing improvements.
Robin Salkeld (UBC) introduced holographic JVMs and a way to debug Java heap dumps. His technique allows you to attach a Java debugger to a heap dump and then execute queries against it using the Java debug interface.
Brendan Cleary (UVic Chisel) showed off Atlantis, which is a file viewer for massively huge files (60 Gb+). He described how Atlantis is used by the Canadian government for analyzing trace files to look for potential security breaches.
After the last presentation, everyone headed out for drinks to celebrate another successful Eclipse DemoCamp. Cheers!
A warm thank you must got out to Andrew Eisenberg for co-authoring this blog, as well as to all other organizers, sponsors and speakers who contributed their time and energy to making this event a success. If you'd like to be a speaker during a future Eclipse DemoCamp, please contact us. It's a wonderful opportunity to show your stuff in a supportive circle of other Eclipse enthusiasts and have some fun while you're at it. See you all next year!